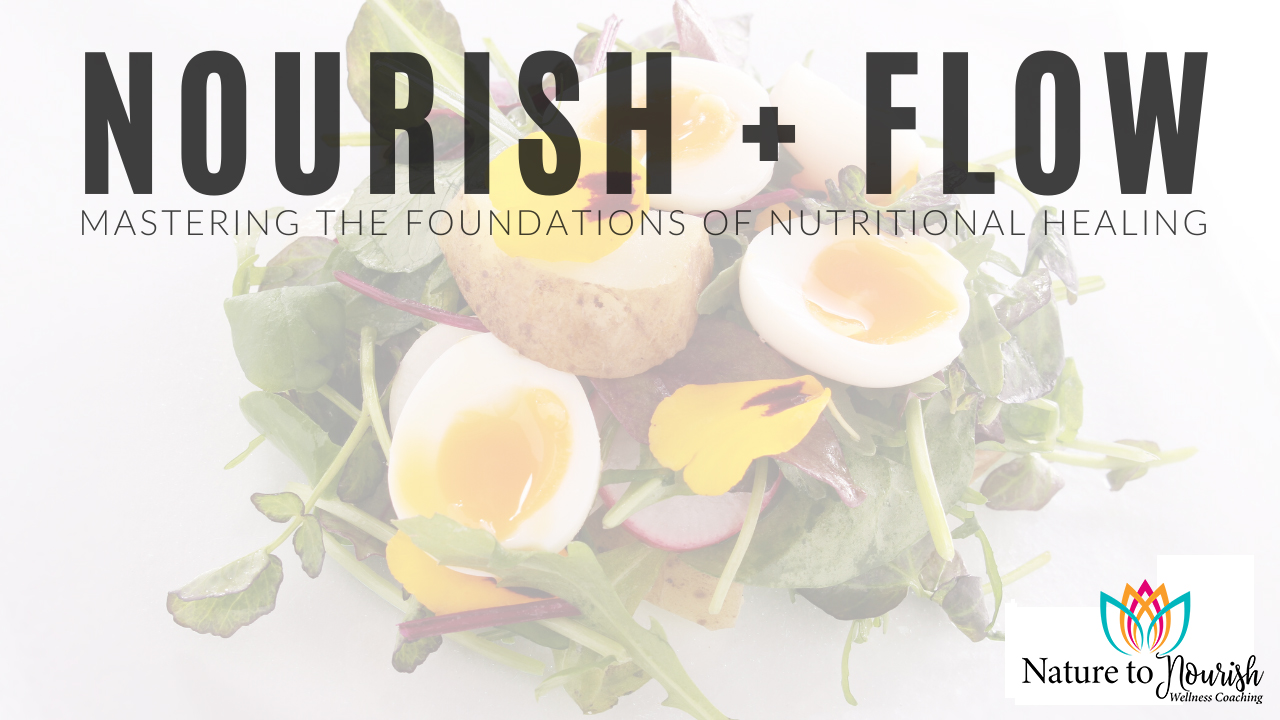 nourish + flow classes
MASTERING THE FOUNDATIONS OF NUTRITIONAL HEALTH
Transition into The Nourish + Flow Experience.
What to expect and how it works.
Includes: Video Lessons, education material, contemplation exercises,
recipes and action steps.
Work on at your own pace with guidance and support from you instructor
through online zoom meetings twice a month.
​
INTRO: THE TRANSFORMATIVE POWER
OF NOURISH + FLOW​
PART I: Food Flow Foundations Creating the structures in your life for deep
nourishment and cultivating a meaningful relationship with your body's
language of symptoms.
• Module 1: Introduction to The Transformative Power of Nourish + Flow
Transition into The Nourish + Flow Experience. What to expect and how it works.
• Module 2: Connecting with Your Symptoms
Symptom survey to help understand your starting point.
• Module 3: Envisioning a Well-Stocked Kitchen
We begin our exploration of how to prepare your kitchen + pantry for flow.
Talk about what a well-stocked kitchen looks like. Clean, organized and full
of nourishing, wholesome food!
• Module 4: Preparing Your Kitchen for Flow
Stock your pantry with food that nourishes. Learn about where to buy it and
what to do with it. A well-stocked kitchen is your first step in accessing real
nourishment and food flow.
• Module 5: Weekly Food Flow
This week we will have fun with figuring out what to do with all that gorgeous
food you have brought into your home! Carve out the time you need to
RELAX IN THE KITCHEN
• Module 6: Hydrate for Health
Learn how much water to drink, symptoms of dehydration how to improve your
hydration. Hydrate + Flow!​
Part II: Diversify Your Diet Our bodies and brains thrive on a diversity of nutrients
and fiber. Have fun experimenting with these nutrient-dense superfoods, and
investigate which Wiggle Room Foods are right for you.
• Module 7: Superfoods
Diversifying your diet means to take a good look at what you are eating,
and make a commitment to try all kinds of glorious, delicious, nutritious new
foods!
• Module 8: Wiggle Room Foods
Wiggle Room Foods are wholesome real foods but come with important
caveats. Learn to fine-tune your nourishment and food flow.
​
PART III: Taking Charge of Your Body + Life
Functional empowerment techniques to improve digestion, calm sugar
cravings, reduce stress and detoxify your life.
Module 9: Stress Management
Identify your sources of stress and create strategies to reduce and eliminate
them. Stress can be physical, mental, spiritual or emotional.
Module 10: Improve Digestion
You've diversified your diet. Now let's make sure you are digesting and
benefiting from those beautiful, life-saving nutrients.
Module 11: Sugar + Binge Eating
Stress and sugar are so inherently connected, it's impossible to fix one without
fixing the other. Sugar is a form of stress for the body. And stress of any sort
activates the sugar response.
Module 12: Detoxify Your Life
Learn to detoxify your bath, body, garden and home cleaning routine for
optimal flow.​
tentative start date: TBD